Dear Families,
It is with gratitude and excitement that we welcome you to a new academic year. While this academic year is beginning with similar concerns to the 2020-2021 year, my gratitude stems from our ability to safely reopen Catholic Academies and Parish Schools once again to in-person learning. We've seen firsthand over the past year how essential it is to provide students with consistent, vibrant educational opportunities, both remote and in the classroom. The ability to physically welcome students into the school building brings a sense of renewal and hope within our school communities.
It seems that after a child is born, a parent blinks and their child is ready to attend school. As I watch my granddaughter prepare for her first day of pre-kindergarten, I am reminded of those first moments with my own children, filled with nerves and excitement for parent and child. I understand that the decision to entrust your child to one of our Catholic Academies or Parish Schools is monumental and for some, the first moments of having your child be cared for outside of the home. This responsibility is one we hold close to our hearts. The children in our schools are never just students. They are sons and daughters, siblings, friends, and grandchildren. They are a valued and precious member of our school communities.
The most significant difference in your school choice is that your child is continuing to build their faith relationships through the understanding of the love of Christ. The gift of an education is tremendous for a child.  The gift of a faith education is life changing. Children who are provided a faith-based environment are more likely to practice the faith as adults and instill the same faith in their children. Catholic school graduates are also more likely to be involved in their communities, celebrate diversity, and be civically engaged. We are thankful to all our parents and families who make the sacrifices to choose a Catholic education, especially considering financially and socially challenging times.
Teachers, staff, and administrators are prepared and excited to begin this academic year with your child. Our focus, in addition to faith development and academics, is providing a learning environment which supports the whole child, including their socioemotional growth. This past year while extremely challenging for adults, has also been challenging for children. We have described them as "flexible" and "resilient," but children are perceptive to the stresses and anxieties we feel as adults. Our teachers have worked diligently to prepare the best environment and supports to help your child navigate the many challenges they have experienced in the past year. I encourage you to develop and maintain a strong relationship within the school community and with your child's teacher. We can best support students as unified team, with the shared vision of helping all students achieve their full potential.
I pray this academic year continues to be healthy and safe for your family. I look forward to seeing all our school communities and students accomplish this year, through the grace and love of Christ.
In Christ,
Thomas Chadzutko
Thomas Chadzutko, Ed.D.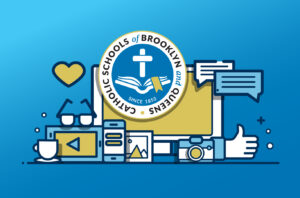 ---